This has been a fascinating year thus far. It's not just the off-season transactions, the Lakers going for another three-peat, or the hype in South Beach. From rookies to veterans, we are in the middle of one of the most exciting statistical seasons, ever. Most of that can be attributed to some of the all-time great players reaching the end of their careers or young guys trying to make a name for themselves. We are a quarter of the way through the year and here are the statistical standouts thus far:
……….
Los Angeles Lakers (1st, 17-7)
Ironman 2: Now that Andre Miller sacked his own 632-game streak, Derek Fisher is the new active leader in consecutive games played with 437. Old. Reliable. Fisher.
Former Laker, A.C. Green, still holds the NBA record at an astounding 1,192 straight games.
……….
Phoenix Suns (2nd, 11-12)
One for the Books: 
Steve Nash has 8,612 career assists which ranks him #8 all-time. Nash has also averaged about 750 assists per year. This year he is putting up 10.2 assists per game. With 215 of them already in the record books, Nash is on pace to record 622 more assists giving him a career total of 9,234 assists at the end of the season. If Nash hits these totals he will rank 5th all-time in assists. Along the way he will pass Gary Payton (8,966) and Isiah Thomas (9,061) sometime this season. Up next is #5 Oscar Robertson with 9,887, everyone else is in the 10,000 club, which I'm sure Steve will find himself in when he retires. Amazing feat by the 2-time MVP considering he didn't truly become a starter in the NBA until he was 26 years old.
Side Note: Steve Nash would have to average 10 assists a game for 82 games a year for another 8.7 seasons in order to just match John Stockton's all-time mark of 15,806 career assists.
……….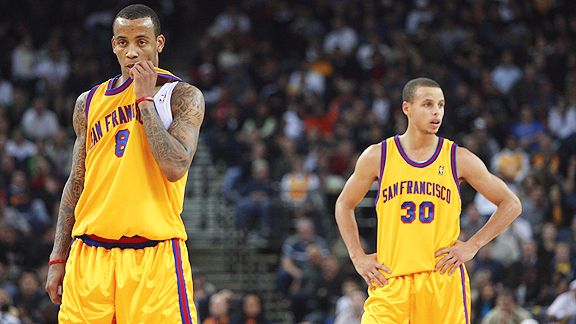 Golden State Warriors
Dynamic Duo: Stephen Curry and Monta Ellis are the NBA's highest scoring backcourt at a combined 44.1 points per game (Curry – 20.1 ppg, Ellis – 24.0 ppg). Silly Monta, we told you it would work.
……….
Sacramento Kings (4th, 5-16)
I hate to break it to you but if you came here looking for Sacramento Kings' stats, you're probably cheering for the wrong team.
……….
Los Angeles Clippers
Earth-Quake-Blake: Blake "The Quake" Griffin is trying to bring down Staples, one rim at a time. According to CBS Sports' Dunk-O-Meter, Blake has a league leading 53 dunks on the year, tying him with Amar'e Stoudemire.
……….
Previous Posts: 
Keep your pencils sharp and your calculators handy, NBA geeks! We'll be back soon with the next installment of 'NBA Stats To Watch For'.