This has been a fascinating year thus far. It's not just the off-season transactions, the Lakers going for another three-peat, or the hype in South Beach. From rookies to veterans, we are in the middle of one of the most exciting statistical seasons, ever. Most of that can be attributed to some of the all-time great players reaching the end of their careers or young guys trying to make a name for themselves. We are a quarter of the way through the year and here are the statistical standouts thus far:
Boston Celtics (1st, 17-4)
Jesus Walk, Jesus Shoots: Ray Allen has nailed 2487 career 3-pointers. 73 shy of Reggie Miller's all time mark. Ray is hitting threes at a rate of about 2 per game and at that rate, the All-Time 3-Pointers Made record should be his by March. There is a chance he could break the record against the Pacers.
Pass-A-Holic: Rondo says that he wants to average 20 assists per game this year. I doubt he ever comes close to 20apg but his 14.06apg ain't to shabby. It's just shy of John Stockton's single season record of 14.54. Rondo is definitely going to make a run at that record, but even if the season ended today, his 14.06 would be good for 3rd all-time.
New York Knicks (2nd, 14-9)
Resurrection: Amar'e has been on fire in the last month of play. Averaging 29 points and 9.7 rebounds a game. On the season he is averaging 25 points and 9.7 rebounds a game. If he can keep this up, it would be the first time a player averaged 25/9 since Dirk did it in 2004-05.
Toronto Raptors (3rd, 8-14)
The New Rodman: Okay, that's more than a stretch but Reggie Evans body of work has been very Rodman-esque, averaging 4 points and 12.1 rebounds a game. His TRB% of 26.1 is the 4th best on record and would be the all-time mark if it weren't for Dennis Rodman himself occupying spots 1,2 and 3.
Philadelphia 76ers (4th, 7-14)
Anybody Home?: The 76ers have an NBA low in attendance this year at about 13,000 fans per game. I understand that the 76ers are a terrible, terrible team but they can't even give away tickets? At this rate, we should probably just start calling them the Seattle 89ers.
New Jersey Nets (5th, 6-16)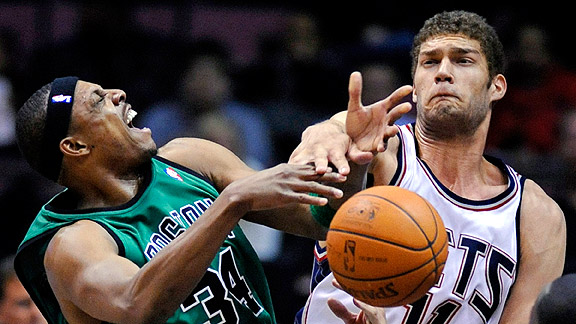 Doesn't Do Windows: Brook Lopez isn't taking care of the glass and that's a problem. This year he is averaging 6.1 rebounds per game down from 8.6 last year. According to Basketball-Reference.com, Brook's 10.2% Rebound Rate % ranks 3rd to last in the last 10 years on the list of centers at least 6'10" to play at least 25 minutes per game. Only two players have a worse rebounding rate; Eddy Curry (10.2%) and Mark Blount (9.8). That's terrible company to keep.
Keep your pencils sharp and your calculators handy, NBA geeks! We'll be back soon with the next installment of 'NBA Stats To Watch For'.